The fleet collaborative app
to get the work done
Manage your fleet and collaborate
with your teams, your service providers
to optimize equipment & service.
Try Sharemat and start to optimize your fleet & work
Connected, collaborative, easy
Sharemat is a new way to manage your equipement fleet. It's not only an app, but a connected collaborative app:
Inside your company, with your partners : owners, service providers, partners are working together
Connected to every equipment through the Sharemat Box, updating data every 30 minutes
So easy that you will open it to all your teams
Sharemat Fleet provide you all the information you need through multiple dashboards:
Equipment lists to follow maintenances, controls, geolocation
Alerts on due dates controls and maintenance
Work hours Statistics and reporting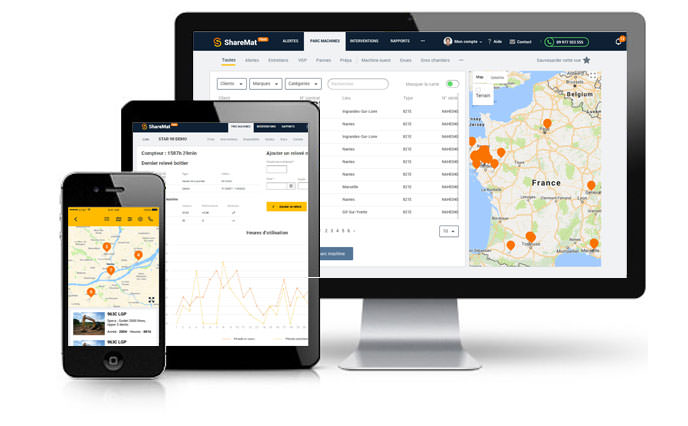 Telematics & AEMP
You can add equipements with telematics (or not), Sharemat Fleet includes the main providers from manufacturers and IoT providers (more to come 🙂
Connected to Fleet instantly
Start adding information to get an accurate fleet overview
Dedicated account manager
Onboarding sessions
Online support
Not have enough time ? Send us all you reports, files and we will add all data to Sharemat Fleet
Customizable alerts
Sharemat Fleet turns your data into informative dashboards and reports that are easy to read. It allows you to to support better business decisions.
Sharemat also provides you specific alerts:
Next maintenances, technical controls
Unused equipment in stats or anormal use
End of warranty
Geofencing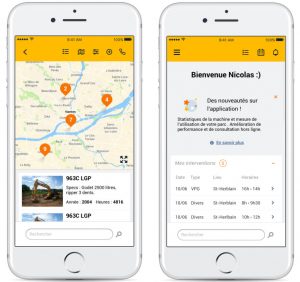 Mobile apps
We offer Android & iOS apps to maintenance technicians:
All fleet information
Sync equipment documents on planned operations
Offline access & forms