ABOUT SHAREMAT
A passion for innovation and the construction sector
How can we increase construction equipment use rate ? How can we bring benefits from digital, data and sharing to the Construction sector, as in other industries ?
Why ShareMat ?
Jean-Luc FIRMIN, founder of ShareMat, notices in 2017 an average use rate of 30% to 70% for construction equipment, he is in charge of a maintenance activity/repair of multi-brand fleet.
Considering the large level of investment, productivity improvement would make sense.
Both the development of digital technologies and the increase in the sharing economy, led him to California, to discuss with the first startup launched on the subject : YARDCLUB.
The visions are common and YARDCLUB focuses exclusively on the American market.
ShareMat was founded at the end of 2017 with the aim of providing a business response to the integration of digital and sharing in the management of assets.
ShareMat today
We are a team of 12, passionate about construction equipment distribution, rental and operation, as well as the development of professional digital solutions.
Our mission is to help the construction industry to get more of their fleet.
We are developing a SaaS platform dedicated to the multi-brand management of materials and equipment.
ShareMat's expertise has developed in the following areas:
Collecting and working telematic data,

Combining business and real time data of equipment,

Dispatching equipment,

Sharing equipment information within and between organisations,

ROI (Return On Investment) approach on improved fleet management in ShareMat.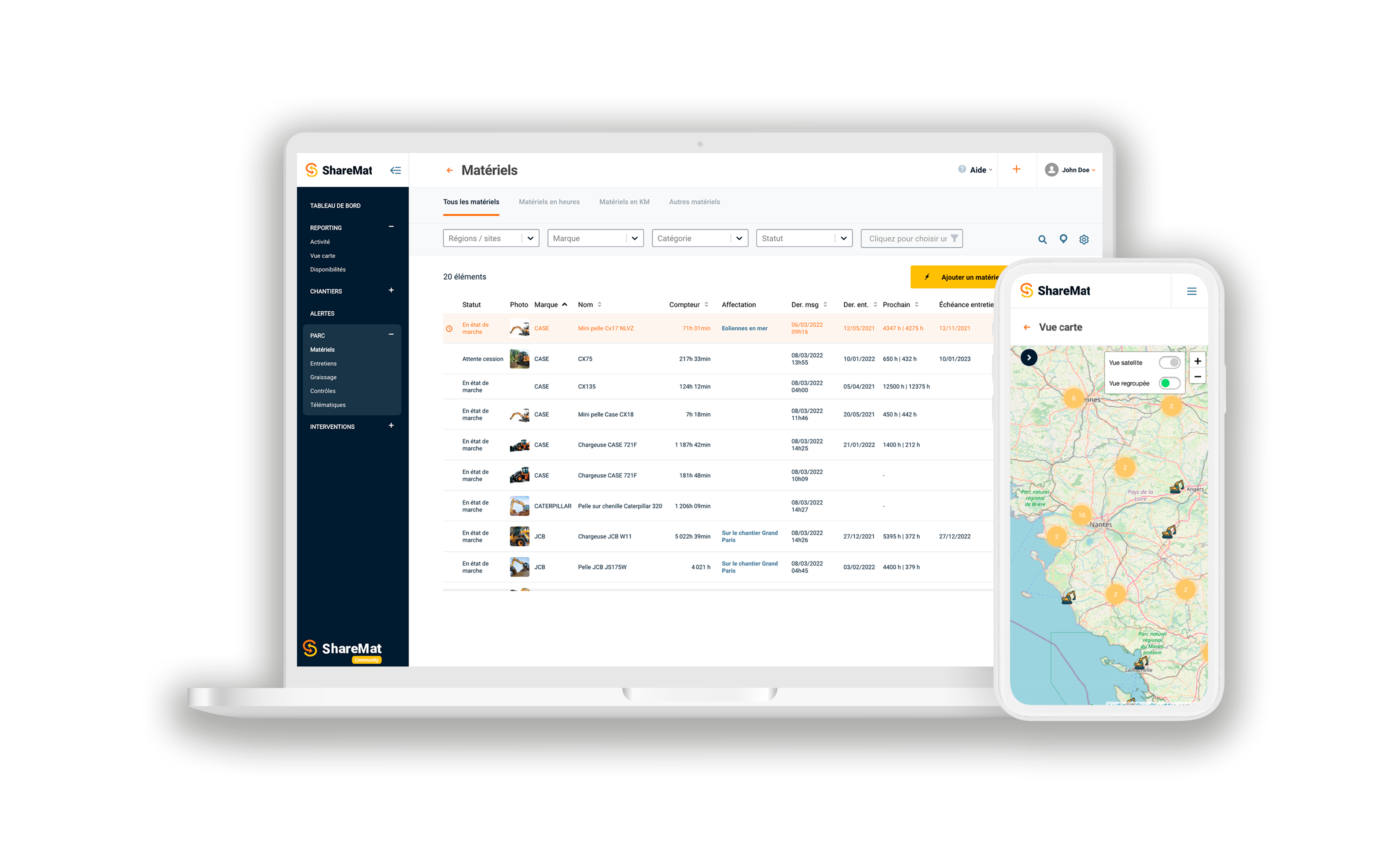 Keywords of ShareMat
Those reported to us by our customers
It's simple !
We develop an intuitive digital tool that can be used by all types of users without extensive training.
Everything on one screen!
80% of the information used every day is presented on the same tool.
Share and win!
Sharing data (information and use) allows you to :
Save time and gain peace of mind

Better anticipate

Gain margin