Calculation of CO2 emissions from equipment
ShareMat decides to help the actors in Public Works, Agriculture and Landscape Maintenance to answer changes in the regulations on the Greenhouse Gas Emissions Assessment system.
ShareMat helps professionals calculate their CO2 emissions
We have written a guide to understand the challenges of reducing the carbon footprint and the use of construction materials.
Controlling the carbon footprint notably involves reducing fuel consumption and choosing the energy of the equipment used on the worksites.
There is only one solution : measure, analyse and optimise equipment activity.
This is why ShareMat now makes it possible to automatically calculate the CO2 emissions of your equipment from the manufacturer telematics data that we collect.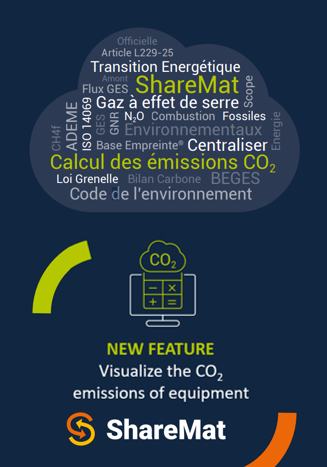 What's in our Document ?
The System of Greenhouse Gas Emissions Assessments, governed by article L. 229 25 of the Environment Code, requires companies to provide a production of an emissions assessment and a voluntary action plan aimed at reduce them and update them every three or four years.
On the program of this document:
– What are GHG emissions, scopes, emission factors?
– What impact does it have on the construction sector?
– What are your obligations?
– How to measure the carbon footprint of your equipment?
We help you see more clearly on these new issues.
Fill in the fields just below and we will send it to you!